It's December! And that means another round of furious internet shopping for the perfect Christmas gifts. This year, while finding the perfect gifts for everyone on my list, I've found a LOT of other cool stuff that I thought I'd share with you…
Coin storage from Molla Space


I love this thing, I think it's a great gift for guys to leave by the front door or bedroom for when they empty out there pockets. It comes in white and black. If that's sold out, that's okay, MollaSpace makes a lot of cool coin storage options.
Adopt-A-Creature from Oceana
If you're looking for the perfect gift for me, anything from Oceana will do. I especially love these sea creature cookie cutters that use the money from them to help adopt a sea turtle or shark.
Design your own decor with Jonathan Adler


It's super pricey, but super cool if you can afford it. You can even design your own rug!
Flash drives!


Flash drives are way useful and now they keep coming out with cooler and cooler designs to make them into more personal gifts. Like the Star Wars flash drives for your favorite geek. Or a credit card sized flash drives for the man in your life. And Swarovski crystal flash drives for the fancy lady in your life.
Hit the jump for more gift ideas!

Stanley Thermos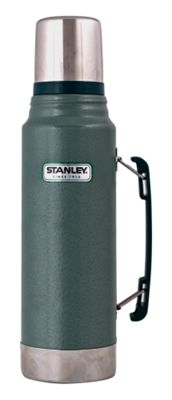 Perfect for the guy (husband, dad, grandpa, etc.) or girl (me) in your life that enjoys the outdoors. The Stanley Thermos has remained essentially the same since its introduction in 1913. How cool is that?
4 player Super Mario Bros
for the Wii


I'm actually getting this for Aaron for xmas. And I'm pretty excited about it. 🙂
Open It Universal Package Opener

Cuts through those insane vacuum sealed with plastic from the devil packaged things, includes a razor and a screw driver as well — it's super convenient!
Star Wars stuff:
(Because what would a list put together by ME be without the Wars?)


Tauntaun sleeping bag!

Star Wars: A Pop-Up Guide to the Galaxy

I forced my parents to get this for me last xmas and I LOVE it!
For kids:

Encyclopedia Prehistorica Dinosaurs: The Definitive Pop-Up
— I gave the one about Shark and Other Sea Monsters to my nephews one year and they loved it. In fact it was my most favorite thing that I've ever given a kid.

Design your own muppet "whatnot" or give a gift card for someone to design their own.
Fingerless gloves:
Fingerless gloves are great because you can still use your iPhone or camera while still keeping your hands warm!
I love these particular ones from Etsy.
Whiskey Stones


These cubes were designed by a big fan of single malt scotch, who wanted to chill his spirits without diluting them. After much research, he came up with the idea of using natural soapstone due to its softness (won't scratch the glass) and its unique ability to retain temperature for extended periods of time.
At the risk of ruining many a surprise, I bought these Julian scarfs for all the girls on my shopping list, and then I bought myself the one pictured above. It's a warm and soft flannel scarf that comes in a variety of colors and has pockets!!! I love it so.
Barista approved, reusable coffee cups. The Keep Cup is made in Australia and they come in all three Starbucks sizes and also come in different color arrangements. I ordered one today and I can't wait to use it!
Funny shit:


Paul F. Tompkins' new comedy cd "Freak Wharf" just came out. Not only is Paul a friend of ours, but he's also one of the most talented comedians out there. We love him and we can't wait to listen to this cd as we drive from LA to Texas for xmas.
Teeny Tiles are 2-inch square tile printed with any image — you can upload your own. They come with magnetic backing. And they're only $5 each! You could make really cool sets for each person on your gift list.